LASTING POWER OF ATTORNEY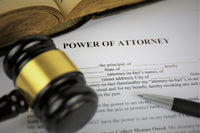 A lasting power of attorney (LPA) is a legal document that allows someone to make decisions for you, or act on your behalf, if you're no longer able to or if you no longer want to make your own decisions. The document appoints one or more people (known as 'attorneys') to help you make decisions or to make decisions on your behalf.  An LPA gives you more control over what happens to you if you have an accident or an illness and cannot make your own decisions due to lacking mental capacity.
Many people wait until they have concerns about their mental capacity before thinking about creating an LPA, but often this is too late. To help you decide, here are four key reasons why we recommend business owners should make a lasting power of attorney:
It safeguards the future of your business and your family's income
Should the worst happen, nominating an attorney means you are safe in the knowledge that someone capable will be there to make decisions, pay employees and enter into contracts on your behalf, meaning the business can continue as normal and that its future is in safe hands, as is your family's income.
Putting an LPA in place means you are in control of exactly what authority your attorney has and does not have. In preparing the LPA you can make decisions while you are still able to, structuring and setting out what you wish to take place should the LPA be required in the future.
It can be lengthy and expensive without a shareholders/partnership agreement
It is possible for shareholders' agreements to deal with incapacity and it is important to ensure that your lasting power of attorney does not conflict with it. However, if there is no shareholders' agreement or LPA in place, your family members or the business will need to make an application to the Court of Protection for the appointment of a deputy to act on your behalf, which is expensive and can take several months.
Existing agreements can mean a lasting power of attorney is of no use
It is not uncommon for articles of association to state that someone's appointment as a director will automatically terminate in the event of the loss of mental capacity. Also, articles of association do not always allow a director to delegate their responsibilities so, if this is the case, an LPA will not help. Seek legal advice on what is in place and, where possible, amend to provide more protection.
Regardless of your share or stake, being unable to make decisions can cause significant damage to your business and its future, so it is crucial to consider the contingency plans you have in place.
Need help email us now.