COVID-19 - HK UPDATE 7th APRIL 2020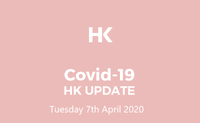 THE SINGLE MOST IMPORTANT ACTION WE CAN ALL TAKE IN FIGHTING CORONAVIRUS IS TO STAY AT HOME IN ORDER TO PROTECT THE NHS AND SAVE LIVES.
This update is written and posted on 7th April 2020 and is likely to quickly become out of date. We will endeavour to update information as it becomes available.
Previous updates and other useful information can be found at our WEBSITE.
We have been posting a daily business update as a result of the Covid-19 situation every day since 19th March (seems like a lifetime ago!), except one day when nothing to report and at weekends, days of rest and to collect thoughts. 
The feedback we have been receiving is that they are useful (very few have unsubscribed!) and we will continue to post as and when there is something to report.  Our key is to get news out that will help businesses and business owners, in the main about funding options/opportunities, Government backed or not, particularly as matters have developed rapidly and cash flow is tight. 
In Friday's update we provided details of two Innovate UK competitions (more details on one below), which two clients jumped on immediately and hopefully (fingers crossed) will be successful.
Business Rates Grants We are aware via our own experience, feedback from clients and post being received at the office, that the Local Authorities are now distributing the business rate grants to qualifying businesses. It is a two-stage process, the Local Authority contacting the business via email or post, then the business completing a short form to enable the payment to be processed.  Many authorities have opened dedicated online portals.  If you have not been contacted by the end of the week, then it is worth checking the position with your Local Authority, as they may have incorrect contact details, although we are finding that if they can't reach a business via email they will send a letter; 
The Prince's Trust and NatWest have launched an Enterprise Relief Fund to help 18-30-year olds who are self-employed and/or running their own business. Grants can be used to maintain core business operations during the crisis, as well as meet any existing financial commitments, such as paying for essential equipment or settling invoices from suppliers. More details can be found at

HERE

   
Forward Partners, an early-stage venture fund for tech start-ups has launched "Forward Advances," a revenue-based finance solution for start-ups that need to bolster marketing. Aimed at "fast-growing" e-commerce, marketplace and B2C SaaS businesses, Forward Advances will provide growth capital to start-ups in return for a 6% flat fee, with repayments taken as a small percentage of monthly revenue.  More details can be found at

HERE

 
 The National Lottery Heritage Fund has put together a £50 million fund to support the heritage sector as an immediate response to the coronavirus (Covid-19) outbreak.  It is available to organisations across the full breadth of the heritage sector, including historic sites, industrial and maritime heritage, museums, libraries and archives, parks and gardens, landscapes and nature. More details can be found at HERE
 The Government have released a leaflet on what to do to help stop the spread of coronavirus, including information on symptoms and government support. It also has a section on going to work, if unable to work from home, and a summary of the Government's support to business. A copy can be found at

HERE
Innovate UK Grant – More details have been released on the Innovate UK competition announced on Friday for grants of up to £50,000 available to technology and research-focused businesses to develop new ways of working and help build resilience. More detail at

HERE

 
Guidance for Apprentices - The Government has issued guidance in relation to apprentices, the majority of which relates to training arrangements. It confirms that furloughed apprentices can continue training as long as it does not generate income or provide services to their employer. The employer must pay the apprentice at least the relevant national minimum wage rate for the time they spend on training while furloughed. This may mean that the employer must top up the amount that it claims from HMRC under the scheme.  Further guidance is available at

HERE

 
Our summary of the Government's support can be found at HERE
We know that this is a very difficult time for all businesses and some difficult decisions are having to be made.  We have spoken to many of you and for those we have not, we would like you to know that we are here ready to help if you need us to provide advice, deal with queries, or just be a business sounding board.
celebrates the vital role that nurses and midwives play to improve

 
#HealthForAll