Business Forward: Key advice for recovery - HK update 29 May 2020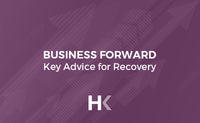 This update is written and posted on 29 May 2020 and is likely to quickly become out of date. We will endeavour to update information as it becomes available.
Previous updates and other useful information can be found at our WEBSITE.
As we all hopefully start to move away from concentrating solely on survival and are now shifting our focus towards recovery, we will continue to provide you with the most up to date information and what can be done to keep you and your business moving out of lock-down.  In line with this positive step, we have changed the title to our updates to Business Forward: Key advice for recovery.
Amongst all the Dominic Cummings news, the PM released details of the second phase of the lock-down unwind, with the timeline for retail to start opening, commencing from 1 June, and further guidance has been published explaining how to operate safely to protect staff and customers.
Key points:
Car showrooms and outside markets will be able to reopen from 1 June, as soon as they are able to meet the Covid-19 secure guidelines to protect shoppers and workers; 
All other non-essential retail will be expected to be able to reopen from 15 June if the Government's five tests are met (i.e. the R rate does not increase) and they follow the Covid19 secure guidelines, giving them three weeks to prepare.
Guidance for reopening can be found HERE
As with the previous announcement re construction, manufacturing and offices, businesses will only be able to open from these dates once they have completed a risk assessment, in consultation with trade union representatives or workers, and are confident they are managing the risks. They must have taken the necessary steps to become Covid-19 secure in line with the current Health and Safety legislation. 
The Department of Business, Energy and Industrial Strategy has a webinar available on how to make your retail workplace Covid-19 secure. 
Fast Start Competition 
In addition to the Future Fund (details can be found here) the Government has allocated £40 million through the Fast Start Competition to drive forward new technology advances, and to support innovative start-ups, to help business deliver potential solutions, services and ways of working to help solve challenges the Covid-19 pandemic has created.  Successful projects to receive the funding to date, include a virtual-reality surgical training simulator and an online farmers' market platform.  Further details can be found at here.  
Statutory Sick Pay (SSP) Reclaim 
We reported last week that the Government SSP Rebate Scheme would go live this week, enabling employers to reclaim SSP paid as a result of Covid-19.  Advice, a calculator and a link to the claim portal that went live on Tuesday can be found at here. 
Local Authority Discretionary Grant Fund
Last week we reported the announcement of the details of the Discretionary Grant Fund targeting small businesses with fixed property-related costs which were not eligible for the Covid-19 business rate grants, for example businesses using serviced offices. Last week's newsletter can be found at here.
One of the conditions of applying for the grant, is that the applicant has not benefited from any of the other Government support schemes (except the furlough scheme), this included the self-employed income support scheme (SEISS), which excluded a number of bed & breakfast business owners.  After lobbying, the conditions have been changed, such that provided the owners pay council tax and have claimed the SEISS, they can now make a claim via their local authority.
Mortgage Holidays 
The Government have extended the mortgage holiday for a further three months from the end of June, including the ability to make reduced payments.  Per previous newsletters, by deferring payments interest costs will continue to arise, increasing the cost of the mortgage. Individuals need to have the deferment agreed in advance with their provider to prevent being classed as a defaulter and adversely impacting their credit record.  More details can be found here.
Miscellaneous
Pick for Britain – The Government is still pushing its "pick for Britain" campaign which we have previously highlighted, as the pandemic is resulting in only about a third of the UK's required labour force being available for this year's harvest due to the restrictions on temporary workers coming into the UK from abroad. Details at can be found here. 
Scottish Businesses using tax havens - The Scottish parliament has passed emergency legislation to prevent companies based in tax havens from using Covid-19 Government funding schemes and reliefs.
As ever, matters are still developing and we will endeavour to keep you up to date, flag to you opportunities and signpost to the key details as best we can via our weekly updates.  A summary of the Government's support schemes can be found at our website, including a list of non-Government funding opportunities, which we update regularly and can be found HERE.
We know that this is a very difficult time for all businesses and some difficult decisions are having to be made.  We have spoken to hopefully all of you and if not, we would like you to know that we are here ready to help if you need us to provide advice, deal with queries, or just be a business sounding board.
Contact us here
 #Stay Alert, #Control The Virus #Save Lives