Non-Government Based Financial Support During Covid-19 Crisis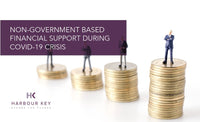 The Sustainable Innovation Fund 
A new £200m fund to drive innovation and bolster the post-pandemic economy will be open to companies across all parts of the UK that need urgent financial support to keep their projects and ideas alive.  Cash could be used for development of new technologies to make homes more energy efficient or to fight infections and diseases.  The first stage of the fund opened yesterday and will, close on 29th July - see HERE
Plastics Research and Innovation Fund
A £20 million Plastics Research and Innovation Fund (PRIF) has been launched which aims to explore new ideas and innovations that can bring changes in the UK's plastics manufacturing and consumption patterns to contribute to solving the plastic waste problem. Details can be found at HERE. 
Gloucestershire Start & Grow Enterprise
Is offering free online support for start-ups across Gloucestershire – Details can be found at HERE. 
Fast Start Competition
In addition to the Future Fund (details can be found here) the Government has allocated £40 million through the Fast Start Competition to drive forward new technology advances, and to support innovative start-ups, to help business deliver potential solutions, services and ways of working to help solve challenges the Covid-19 pandemic has created.  Successful projects to receive the funding to date, include a virtual-reality surgical training simulator and an online farmers' market platform.  Further details can be found at HERE
Salesforce small business grants 
Salesforce's is partnering with Enterprise Nation to offer eligible small businesses the opportunity to receive a £5,000 grant to help them through the COVID-19 outbreak. Details of eligibility and how to apply can be found at HERE
The Defence and Security Accelerator (DASA)
has launched a £1m fund to develop technology that predicts and counters cyber-attacks.  Further details can be found atHERE
British Society for Antimicrobial Chemotherapy (BSAC) 
Launched a COVID-19 funding call to support researchers in better understanding and addressing the COVID-19 outbreak. Grants of up to £25,000 are available to support research projects. Exceptional grants in excess of £25,000 will be considered. Applications are open worldwide to all organisations and will be subject to a rapid peer review process. The final deadline for applications is 1st May 2020 (* but a 4-page summary must be submitted by Friday 17th April). To find out more click HERE 
UK Research and Innovation (UKRI) 
will provide funding support for up to 18 months duration which projects must meet at least one of the following:
New research or innovation with a clear impact pathway that has the potential to deliver a significant contribution to the understanding of, and response to, the COVID-19 pandemic and its impacts.
Supports the manufacture and/or wide scale adoption of an intervention with significant potential.
Gathers critical data and resources quickly for future research use.
More details HERE
Defence and Security Accelerator
Open Competition COVID-19 - Rapid Sanitising Technology.
The funding opportunity to solve the issue of ambulances being thoroughly cleaned once a patient with suspected COVID-19 has been transported remains open, with a rolling deadline. Funding is available to support businesses for technology which can identify, develop and demonstrate rapid sanitising technologies. More information on this competition and others can be found HERE 
National Institute for Health Research
offering funding support for travel and subsistence to support Low to Middle Income Countries (LMIC) engagement during the COVID-19 outbreak.  The grants will be for appropriately qualified public health professionals, clinicians and academics who can offer scientific and technical advice to support the immediate response to COVID-19.  More information can be found HERE
EOSCsecretariat.eu
Offering fast Funding for COVID-19 Science with grants of $10,000 to $500,000 to coronavirus researchers, and every grant decision will be made in less than 48 hours. More information HERE 
Medical Research Council
Grants for rapid research into COVID-19, which is researcher-led for UK academics, SMEs and wider industry for research that will address a wide range of COVID-19 knowledge gaps leading to a benefit in UK(and potentially international) public health within 12 months. For more information HERE
UK Space Agency
Funding available for space-enabled technology and services that can strengthen the NHS response to coronavirus.  The space-enabled technology could include satellite communications, satellite navigation, earth observation satellites or technology derived from human spaceflight, for example satellite data and drone technology can help in the delivery of test kits, masks, gowns and goggles. More information can be found HERE  
Techforce19 
A new technology challenge to combat the effects of social isolation. £25k of funding available for digital solutions to help provide social care or mental health support during the crisis. More details can be found at HERE 
Innovate UK 
Serious of grant competitions in a number of areas, which can be found HERE
In addition Innovate UK announced a new competitions for grants of up to £50,000 available to technology and research-focused businesses to develop new ways of working and help build resilience in industries such as delivery services, food manufacturing, retail and transport, as well as support people at home during this crisis and the future.  Further details can be found at HERE.
eBay
Are offering the option to defer most selling fees for eligible registered business sellers for 30 days. New businesses registering on ebay.co.uk will not have to pay fees to list or sell until 31 May 2020.
Google
Helping small businesses through grants, investment, Google Ads and Google Cloud credits. Link
Facebook
Has a small business grants program including cash and ad credit. You can register your interest HERE.
The Prince's Trust and NatWest
Launched an Enterprise Relief Fund to help 18-30-year olds who are self-employed and/or running their own business. Grants can be used to maintain core business operations during the crisis, as well as meet any existing financial commitments, such as paying for essential equipment or settling invoices from suppliers. More details can be found at HERE  
The National Lottery Heritage Fund
Has put together a £50 million fund to support the heritage sector as an immediate response to the coronavirus (Covid-19) outbreak.  It is available to organisations across the full breadth of the heritage sector, including historic sites, industrial and maritime heritage, museums, libraries and archives, parks and gardens, landscapes and nature. More details can be found at HERE
The British Business Bank's Start Up Loans
This program is still available for support for eligible businesses during the coronavirus outbreak. Details can be found at HERE 
BenSoc
A charity which supports professional photographers and photography lab technicians, is offering small grants. Details can be found HERE
The BFI and The Film and TV Charity
Have partnered to create a fund with a £1m donation from Netflix to help support the creative community. More details HERE 
Arts Council England
£20 million fund for financial support available to artists, creative practitioners and freelancers more details HERE