January e-newsletter 2020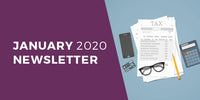 HAPPY NEW YEAR AND WELCOME TO HARBOUR KEY'S FIRST NEWSLETTER OF 2020
May we take this opportunity to wish you a Happy New Year and thank you for supporting Harbour Key in 2019.  We look forward to working with you in 2020.
We hope you had an enjoyable Christmas break, particularly those 3,003 taxpayers filing their Self-Assessment returns on 25 December (peak time was between midday and 1pm, when 245 were filed, must have been waiting for the turkey to finish cooking).  There were 34,488 taxpayers who filed their returns on New Year's Eve, just in time to celebrate 2020. Whereas some people felt like leaving it until 2020, as 17,080 returns were submitted on New Year's Day.
January is always a busy month at Harbour Key with the usual rush to meet the 31st January filing deadline. A gentle reminder to all those clients who have still not provided us with their tax information or have outstanding queries - please forward to us asap. Automatic penalties apply to late tax returns, even if you have no tax liability to pay and the later the information is received, we cannot guarantee we can file by the end of the month.