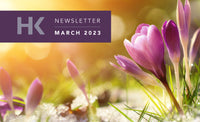 SPRING BUDGET NEXT WEEK!
As the end of the 2022/23 tax year rapidly approaches, which for several businesses is also their financial year-end, we have a Spring Budget next week (15th March).  Although it is believed there will be little in the way of tax announcements, as this was dealt with in the Autumn Statement, there are a number of tax changes coming in from April 2023.  As various tax changes were set out (and reversed) over a number of Budgets it has been challenging to keep up. We have therefore summarised the main changes on our blog below.
There is little "noise" circulating in advance of the Spring Budget, which would support the view that limited tax announcements are expected.  One reported area for change in the Budget, or for there to be a review announced, is in research and development tax credits. Certain press quarters were reporting at the weekend that The Chancellor (having reduced the relief from 1st April), is looking to pull this valuable relief from many sectors, targeting future benefit at specific high growth sectors, for example bioscience, medical and similar. A number of Conservative MPs are also lobbying to prevent the increase in the corporation tax rate to 25%.
 
On Budget Day, HMRC workers have voted to strike over pay and pensions.  Union members of HMRC have voted to strike, with a 58% turnout of staff!

With the upcoming changes only a month away, time is running out to consider any year-end tax planning and check whether you have taken full advantage of the tax reliefs and exemptions that are available.

Our year-end tax planning checklist can be found HERE.

Also don't forget to check your PAYE coding notices for 2023/24, which are now being issued by HMRC, and should be checked to make sure the correct tax is being deducted at source on your employment income and/or pension.
AMAZON SUSTAINABLE START-UPS LOANS
If you are an early-stage start-up creating consumer products that are more sustainable, or developing recycling technologies to keep materials circulating, Amazon Sustainability Accelerator are offering businesses to apply by 17 March to be in with the chance of winning over £30,000 in grants and credits.  Please click here for more information.
UK TAX AUTHORITY LAUNCHES CRACKDOWN ON HOLIDAY LET OWNERS!
HMRC has launched a crackdown on the short-term lettings market, sending 'nudge' letters to around 1,000 property owners that it suspects have not declared rental income on their self-assessment tax returns.
BANK DUE DILIGENCE REQUESTS
We have been assisting several clients with bank/building society due diligence requests. The requests are on the increase, and it has been reported that a number of businesses are getting locked out their business banking accounts, due to ignoring these requests.
 
The forms, known as, "Know your Client" KYC forms, need to be completed as soon as possible, together with providing any supporting documents. The information to be provided can be considerable if there are a number of shareholders. The risk to the business is the bank account being frozen and the business having no access to funds, where it can be difficult to resolve the situation.
ANNUAL TAX ON ENVELOPED DWELLINGS
Commonly known as ATED, this is an annual tax charge payable by onshore and offshore corporate entities, including companies, partnerships with corporate members, or other collective investment vehicles that own, wholly or partly, UK residential properties ("dwellings") valued above £500,000.  Any corporate entity within the regime is required to file an ATED return and make a payment by 30th April each year.  There are reliefs from ATED, for example letting a property on a commercial basis or holding property for development purposes. To claim the relief, an ATED return must be filed, which can only be filed online.  Penalties are incurred for late filing. If you believe you are caught within the ATED regime or wish to enquire, please call our office.
PORTUGAL GOLDEN VISA
On 16 February 2023, the Portuguese Prime Minister confirmed that the Golden Visa programme will be coming to an end (confirmation of when it will end and how, is yet to be announced).
 
Portugal is the second European country to end their Golden Visa, following Ireland. The programmes, which give individuals tax privileges, are intended to encourage foreign investment into Portugal and was first introduced over ten years ago, in 2012, to aid recovery from the financial crisis. It has been particularly popular among wealthy Chinese citizens, however, other citizens including from the UK have taken advantage.
DATES FOR YOUR DIARY
15 March 2023 - Spring Budget.
5 April 2023 - Last day of the 2023 tax year and opportunity for any tax planning.
30 April 2023 - Last day to file Annual Tax on Enveloped Dwellings return – ATED
Should you wish to speak with us about a specific matter, or just to be a sounding board or for a chat, please do not hesitate to give us a call.

Please do not hesitate to give us a call us on 01452 713277