OCTOBER E-NEWSLETTER 2019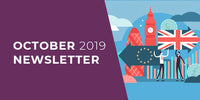 Dark mornings and evenings together with the leaves falling, means winter is on its way.  Winter nights generally mean more time spent at home and therefore can we ask those clients who have not done so, to collate and send in the information for their self-assessment return preparation.  As of today, there are only 114 days until the 31 January 2020, the self-assessment filing deadline, but this includes the Christmas break and weekends.  The late filing of a tax return means penalties and high risk of an enquiry.
We deal with tax return work in order of receipt and therefore if the delivery of information is late, then there is a risk that the filing deadline will be missed.  Late delivery also puts pressure on the team, risks the job not being completed and gives little time for you to check the return is correct.  If you need help or assistance regarding what is required for your tax return, please do not hesitate to call the office.