COVID-19 - HK UPDATE 30TH MARCH 2020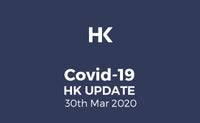 The single most important action we can all take in fighting coronavirus is to stay at home in order to protect the NHS and save lives.
This update is written and posted on 30th March 2020 and is likely to quickly become out of date. We will endeavour to update information as it becomes available.
Previous updates and other useful information can be found at our WEBSITE.
Job Retention Scheme
The scheme continues to evolve and develop, with HMRC confirming on Friday afternoon that the scheme would be available to directors, (see our weekend update).
However, HMRC continue to push the point that even in the face of this unprecedented global Covid-19 crisis, there will have to be tight controls of the job subsidy to avoid abuse by, for example, unscrupulous employers who could see it as a way to simply lay off staff with no intention of rehiring them or creating ghost staff.
There is insufficient detail available at the moment to ascertain what kind of controls will be in place to monitor abuse of the system.  We would advise anyone using the scheme, to document decision processes regarding who has been selected and why, and the employee's acceptance of the arrangement.  Legal advice should be sought to minimise the risk of claims.
In addition, HMRC have confirmed that there is no change in the position regarding those who operate companies and pay themselves a mix of a salary and dividends. An HMRC spokesperson said: 'People who are paid a salary by PAYE can be furloughed for the Job Retention Scheme, but dividends are not covered by that or the self employed scheme.'  Part of the reason for this is believed to be the difficulty for HMRC in establishing whether dividend payments are the result of payment for work, or from passive investments.
National minimum wage and living wage
The National minimum wage and living wage both increase this week.  The Resolution Foundation, an economic think tank and other business organisations have called for a delay in the increase due to the current issues businesses are suffering.
Insolvency rules relaxed
It was announced over the weekend that insolvency rules would be relaxed to prevent businesses being closed due to the economic conditions Covid19 is causing.  One measure is the temporary suspension of the wrongful trading provisions during the crisis – with many businesses having no revenue, but several liabilities, many would be in breach of the rules currently.  As ever, more details to follow.
Business interruption loan
After a lot of pressure and bad press, the big four banks have advised over the weekend, that personal guarantees will not be required for a loan under the scheme which is less than £250k.
Miscellaneous
ebay are offering the option to defer most selling fees for eligible registered business sellers for 30 days. New businesses registering on ebay.co.uk, will not have to pay fees to list or sell until 31 May 2020; 
Rail commuters who have season or monthly tickets will be given the opportunity to claim a refund if they have to work from home during the crisis;
Support to start-up and early stages businesses has fallen through the floor. Venture capitalists and other investors are either pulling out of investments or delaying with the current situation.  CB Insights reports that seed funding has declined globally by 22% since January, with some UK funds reporting falls of up to 70% recently.  This is making the situation very difficult for start-ups and early stage businesses who are unlikely to qualify for any of the current Government support, in particular, the business interruption loan, as they will not be viewed as viable if they have no revenue or are loss making.  A number of high profile entrepreneurs and organisations are making representations to the Government to see what can be done to support these types of business; 
We have advised previously about the greater risk of scams and hackers in these difficult times and for clients to be more vigilant. For example, a scam text claiming to be from the Government (who have sent texts advising people to stay at home) is circulating, advising of a grant of £568 to benefit all individuals! 
Business premises burglaries have significantly increased in the crisis, as residential burglaries become impossible with the stay at home policy and business premises are left empty; 
It is highly likely that employees who have to travel to work (one of the exceptions to leaving your home) that they will be stopped on the way to work by police asking if their journey is necessary. To cover this eventuality, businesses should consider a work authorisation letter that could be issued to employees to show to law enforcement agencies on their way to and from work, if questioned. 
Again, stay home, stay safe.