COVID-19 - HK UPDATE 31st MARCH 2020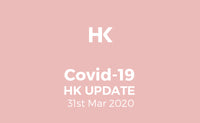 The single most important action we can all take in fighting coronavirus is to stay at home in order to protect the NHS and save lives.
This update is written and posted on 31st March 2020 and is likely to quickly become out of date. We will endeavour to update information as it becomes available.
Previous updates and other useful information can be found at our WEBSITE.
Charities
CAF has launched a rapid response fund to help smaller charitable organisations affected by the impact of Covid-19. Grants of up to £10,000 are available to help small charities to continue to deliver much needed support.  Detail of the grant and eligibility can be found HERE 
Benefits
We are not benefit experts and any queries regarding eligibility and what is available should be made to the Department of Working Pensions, you will find the contact details below.  The feedback we are receiving in respect of applying for benefits is that applicants will be expected to use their savings before they are eligible for emergency Government assistance, despite some changes to the benefit rules being made recently.  We understand that individuals with savings of £16,000 or more, will not be eligible for universal credit.  Individuals with savings over £6,000, can apply, but the amount they can claim will be reduced for every £250 over the £6,000, until the cut off £16,000. 
Claims can also be impacted if a spouse or partner is continuing to work or receiving pay while on furlough leave, this will impact households whose expenditure is based on two incomes.
We would always advise on contacting the DWP, as there are wide range of benefits available, and you may qualify for something.
Various contact details can be found HERE.  
Construction Industry
This afternoon the Business Secretary released a letter to the constructionindustry.  We thought it would be a statement to close construction sites, but instead sites to remain open, but ensure that it is safe and applying the Site Operating Procedures, published by the Construction Leadership Council to deal with the Covid-19.  
Self-Assessment Tax Returns
It will soon be the start of new tax year, therefore team HK we will be contacting clients for their tax return information, which everyone will groan at "why now"!  For some individuals, filing an early self-assessment return will have benefits, as they will be entitled to a tax repayment.  An early filed taxed return will facilitate planning for the tax payment due in January 2021, particularly if the option to defer the 31 July 2020 payment is taken and perhaps crystallises a refund, for example, as a result of any loss relief claim or due to personal pension contributions for higher rate taxpayers. Be nice to Emily and Trish when they contact you please. 
Insolvency Changes
We mentioned yesterday changes being made to the insolvency process. More detail are now available on the announcement, which could provide a much needed respite for company directors, with viable businesses who use the Government's support package who can whether this crisis. The measures can be summarised as:
a moratorium for companies to give them breathing space from creditors enforcing their debts for a period while they seek a rescue or restructure;
protection of their supplies to enable them to continue trading during the moratorium;
a new restructuring plan, binding creditors to that plan;
proposals to include key safeguards for creditors and suppliers to ensure they are paid while a solution is sought; and
temporary suspension of wrongful trading provisions to give company directors greater confidence to use their best endeavours to continue to trade during this pandemic emergency, without the threat of personal liability should the company ultimately fall into insolvency. (The Government considers that existing laws for fraudulent trading and the threat of director disqualification will continue to act as an effective deterrent against director misconduct).
Miscellaneous
Companies House have suspended same day services, due to the impact of coronavirus until further notice; 
We are starting to hear from clients that Local Authorities are starting to make contact in respect of the small business £10,000 grant. So hopefully, businesses across the country will be in contact shortly for this urgent injection of cash. 
As with Facebook and eBay,

Google

has announced commitment to help small businesses through grants, investment, Google Ads and Google Cloud credits.
With all the headlines, guidance and our updates, we thought we would put together a very simple table which covers the help available for the different types of business impacted by covid-19.